Big Show Just Confirmed:
Dying Eyes Of Sloth will be local opening support for "Six Feet Under" & "Jungle Rot"
November 17, 2013 at Dingbatz, 620 Van Houton Ave., Clifton, NJ

Other bands also playing will be Arkaik, Pyrexia and Dark Sermon.
We go on at 4:30 PM, so come early and stay late!!



$25 ADV / $30 DOS -- ALL AGES --

** THIS SHOW WILL SELL OUT** So get your tix NOW.

** With tix purchase we will email you a code to download a free digital copy of our debut EP.
You'll also be entered to win a free T-shirt and signed physical CD copy of our EP.



-- DEOS with Six Feet Under --
Free shipping - No service charge - $25 each.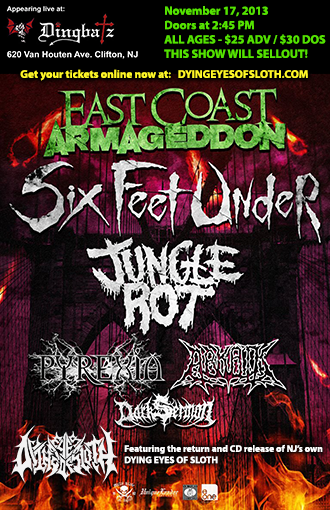 Our debut 4 song EP "Book of Blood" is now available for digital download on Bandcamp. For only $4.00

Long out of print, we're working on reissuing physical copies in the near future.
Or click this image to buy now...